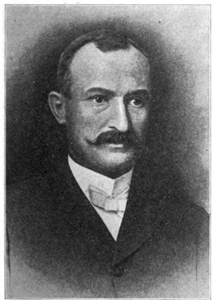 Hon. Frank W. Hunt
"Hon. Frank W. Hunt, governor of Idaho from 1900 until 1902, passed away at Goldfield, Nevada. where he had mining interests, on the 25th of November 1906. He was a resident however of Emmett, Idaho, where his widow and only daughter still reside. Governor Hunt was born in Louisville, Kentucky, December 16, 1864, and was a son of Colonel Thomas B. Hunt, who was born in Quebec, Canada, in 1726 and spent most of his life in the United States. He served as a colonel In the Union army during the Civil war and passed away in Chicago, Illinois, his remains however being interred in the beautiful Arlington cemetery at Washington, D. C. The mother Of Governor Hunt was Eugenia A. Montmolin prior to her marriage. She was born In Charleston, South Carolina.

"Governor Hunt spent his early life at different army posts where his father, an officer of the United States army, was stationed during the period of his son's youth. In the early '80s he made his way to Montana where he became a mining man, and later removed to GIbbonsville, Idaho, taking up his abode there in 1887. He resided there in a log cabin and engaged In the business of staking out mining claims. While at Gibbonsville he also engaged in mining pursuits and his prominence as a citizen of that community is indicated in the fact that in 1892 he was elected to the Idaho state senate, serving as a member during the second session after the admission of Idaho into the Union. This was the only political office he ever held previous to his election as governor. He had demonstrated his worth in citizenship not by office holding but by his stalwart support of measures for the general good and by his reliability and progressiveness in business life.

"When the Spanish American war broke out and Idaho was called upon to furnish her quota of troops Mr. Hunt responded to the call and was appointed first lieutenant of Company G, First Idaho Volunteers. He left with his regiment for Manila and was assigned to duty as brigade quartermaster on the staff of General Overshine. He was twice brevetted for gallantry, the first time being at the battle of Manila and the second at the battle of Zenopia Bridge. After the close of the war he was promoted to a captaincy and received his discharge at San Francisco when the others of the regiment were mustered out.

"It was in the following year—1899—that Mr. Hunt was nominated for the office of governor of Idaho on the democratic ticket and, being elected, served for the term of 1900-1902. On the close of his service as chief executive of the state he was elected president of the Werdenhoff Mining & Milling Company of New York city and also president of the Idaho branch of that corporation. Soon afterward he located at Emmett, having taken up homestead claim of one hundred and sixty acres of land, under the Carey act, located in the vicinity of Emmett. He continued a resident of Gem county from that time until his death, though various mining interests in Idaho and Nevada took him to different sections on many occasions. He was at Goldfield looking after his interests there when he suffered an attack of pneumonia which caused his pre-mature death when he was but forty-two years of age. He was but thirty-five years of age when elected governor, the youngest man ever chosen as the chief executive of Idaho, His remains were brought back to Boise for interment and he was laid to rest in the Masonic cemetery of the capital city, the high Masonic bodies to which he belonged officiating at the funeral services.

"Governor Hunt left a widow and little daughter. He had wedded Ruth Maynard, who was born in Boise, Idaho, December 30, 1881. and is a daughter of the late John Witheral Maynard, formerly a well known pioneer citizen of Boise, who passed away at his home on Warm Springs Avenue, May 16, 1913, when eighty-two years of age. He was a man of large affairs and left a goodly estate. His birth occurred at Dalton, Massachusetts, May 6, 1831, and when he came to Idaho, Boise was little more than a fort and camp, the year of his arrival being 1862. He afterward returned to the east and was married at Dalton, Massachusetts, February 20, 1867, to Miss Jane Lorenzo Tyler, daughter of Moody Tyler and a representative of an old New England family. She was born in Worcester, Massachusetts, August 12, 1838. and died in Boise at the Maynard home May 31, 1898. Mrs. Hunt is one of a family of four children, these being Hugh Temple and Mark Tyler Maynard, Mrs. Hunt and Mrs. Katherine Womack, also a resident of Emmett, Idaho. The two sons are engaged in mining pursuits. The marriage of Governor and Mrs. Hunt was celebrated in Boise and to them were born two daughters, Elizabeth, who died in 1907, and Katherine, who was born March 7, 1906, and is at home with her mother. Mrs. Hunt is a member of the Congregational church.

"Governor Hunt belonged to the Masonic Fraternity. in which he attained the thirty–second degree of the Scottish Rite, and his religious faith was indicated by his membership in the Episcopal church. His life was characterized by marked fidelity to duty, by earnestness of purpose and by devotion to every cause which he espoused, and of him it may well be said that he was faultless in honor, fearless in conduct and stainless In reputation."
From James H. Hawley's "History of Idaho, The Gem of the Mountains," Vol. II, pg. 150f. The S. J. Clarke Publishing Co. Chicago, 1920.
Copyright © 2013 - All Rights Reserved.
Unless otherwise attributed, all photos and text are the property of Gem County Historical Society

Serving Gem County since 1973.
Hours
Wednesday - Saturday 1:00pm - 5:00pm & by appointment :: Extended hours during The Cherry Festival in June.