Ola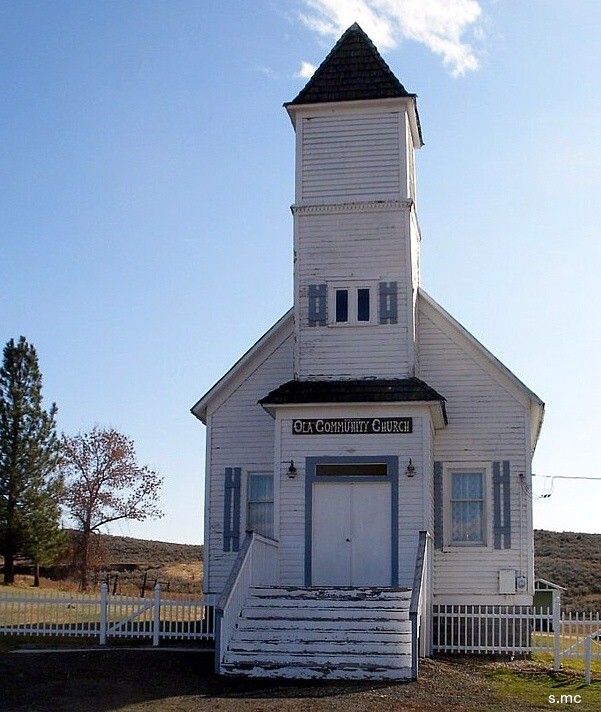 Built in 1907 as a Methodist Church on donated land with donated materials and labor. The church now serves as a community church.
News Items: May 1907, The people of Ola are building a church and Mr. Ocker here has the contract. James Ballantyne is putting up the building
July 1907, The new M.E. church at Ola is well underway
October 3, 1907, Ola News: Presiding Elder Barnes and a number of people from Sweet attended the dedication of the new church
(A Sunday School had been established in April 1901)
The Ola Cemetery is adjacent to the east.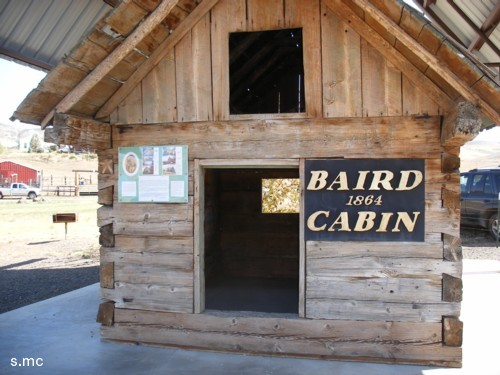 June 28, 2001
Dear Friends,
We do not know what went through those early settlers minds as they topped the hill and viewed our beautiful valley, bit it must have seemed like the perfect spot to raise cattle and horses. The grass and water would have been plentiful and the wildlife abundant. The only drawback was there were no other white women for Mrs. Baird to visit and share miseries with. Mr. Baird had his daily work and trap line to keep him busy, but we can only imagine Mrs. Baird must have been quite lonely and frightened for her baby's safety. She must have had one eye peeled for danger and was convinced she would feel a lot better if the family had a secure building to run for protection.

Subsequently, the fort was built and has been on the Pat Carlock place for many years. The Carlock family recently donated the fort to the Ola Community and it has been moved up to the Ola Community Park where it will be preserved for future generations to enjoy and ponder the life that the Bairds must have had when they first came to, and settled in, the valley.

Projects such as this always required a certain amount of expense. If you have an interest in the Ola Valley and the preservation of its history and would like to be a part of the fort restoration, donation will be accepted and appreciated. Please send contributions to the Old Fort Preservation, P.O. Box 54, Ola, Idaho, 83657. We appreciate your interest and support.

----------- Ola Community Board
History
by Sharon McConnel
Carroll Baird's homestead along Squaw Creek was less than half a mile west of the present-day site of Ola. Mills writes that the Bairds built their cabin where the old Indian trail crosses the creek. The trail was also used by miners and others taking the short cut to, or from, Oregon and the Boise Basin. Prior to the 1875 post office, the mail was delivered by pack horse and snowshoes along the Brownlee Trail from Horseshoe Bend (Boise County) to Warren (Idaho County).
Six weeks after the post office was established, Bairds' bachelor neighbor to the north, Fred Hoffman was appointed postmaster, a postion he held until the post office closed the end of January 1877, when mail was sent to Cascade (Valley County). Mills writes that first wedding in the community was between Fred Hoffman (aka Huffman) and school teacher Ella Drake March 6, 1879.
Mills also writes that when the post office was re-established July 1882, it was under the name of Ola, "for an old Swede that happened along."
Baird was sheriff of Boise Co. 1894-1895,(see Boise County Sheriff's History). This area was part of Boise County until Gem County was formed March 1915.
Ola School
National Register of Historic Places Registration Form (contains history)
- from Idaho State Historical Society
More on Ola
Ola photos from Library of Congress ~ postmaster history ~ 1973, Ed Scultz sells store, retires as postmaster ~ Veterans buried in Sweet and Ola Cemeteries
Off-site links:
Growning up on Squaw Creek Reminiscences of Hester Gross MacAskill Woody (on gem.idgenweb.org)
Copyright © 2008 - All Rights Reserved.
Unless otherwise attributed, all photos and text are the property of Gem County Historical Society

Serving Gem County since 1973.
Hours
Wednesday - Saturday 1:00pm - 5:00pm & by appointment :: Extended hours during The Cherry Festival in June.