School Districts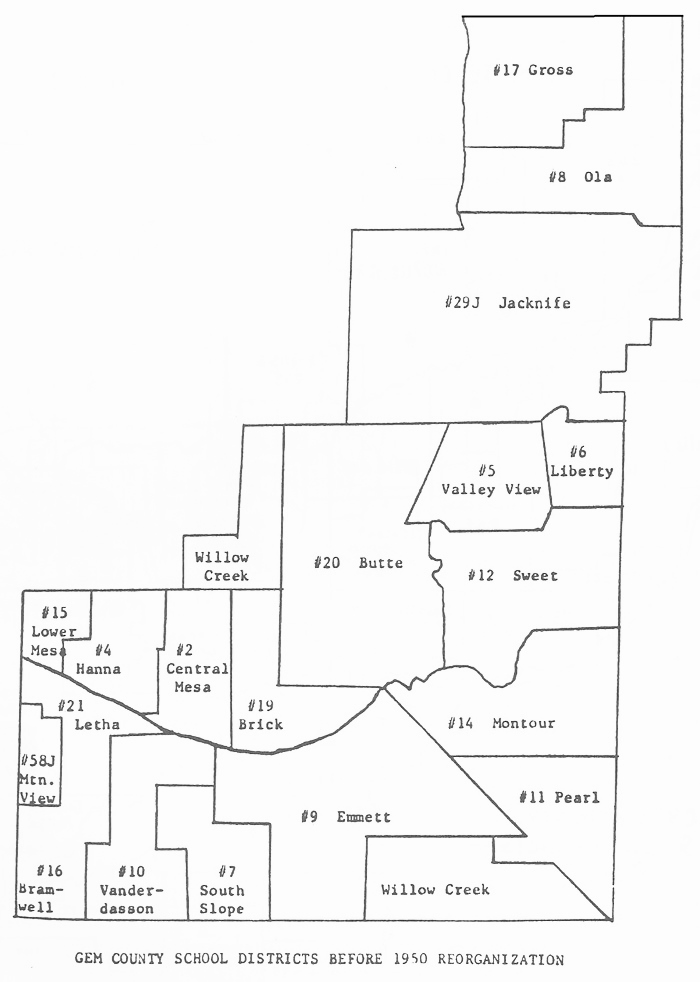 click image for larger version
Extracted from "Old Country Schools of Canyon County, includes Gem and Payette County" by Corinne Moyers. Privately published, 1988.1
School locations from the 1939 "Metsker Atlas of Gem County,"1 districts 1-29 as follows:
Central Mesa, Sec. 33, T7N, R2W
Hanna, Sec. 30, T7N, R2W
Valley View, Sec. 28, T8N, R1E
Liberty, Sec. 11, T8N, R1E
South Slope, Sec. 27, T6N, R2W
Ola, Sec. 25, T10N, R1E
Emmett, Sec. 18, T6N, R1W
Vanderdasson, Sec. 9, T6N, R2W
Pearl, Sec. 15, T6N, R1E
Sweet, Sec. 3, T7N, R1E
Montour, Sec. 27, T7N, R1E
Lower Mesa, Sec. 15, T7N, R3W
Bramwell, Sec. Sec. 12, T6N, R3w
Gross, Sec. 13, T11N, R1E
Brick, Sec. 31, T7N, R1W
Butte, Sec. 10, T7N, R1W
Letha, Sec. 35, T7N, 3W
Jackknife, Sec. 2, T9N, R1E
****
1Available at museum library.


Copyright © 2013 - All Rights Reserved.
Unless otherwise attributed, all photos and text are the property of Gem County Historical Society

Serving Gem County since 1973.
Hours
Wednesday - Saturday 1:00pm - 5:00pm & by appointment :: Extended hours during The Cherry Festival in June.