Sweet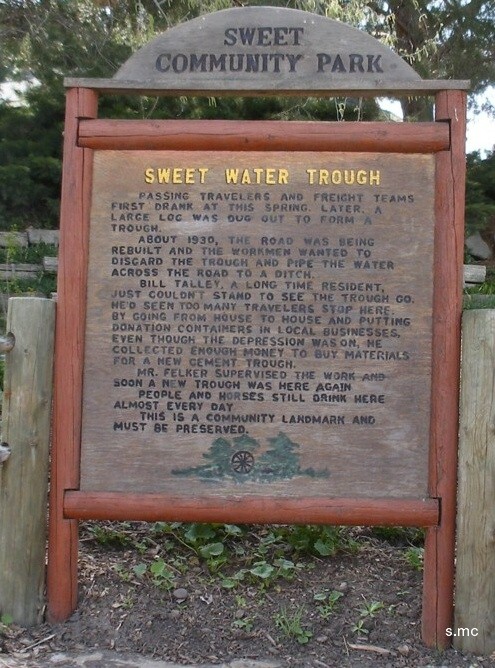 see Ballantine Wool wagons at trough for historic view
"Historic Sweet" (sign on south side of the Syringa Club building)
"On August 15, 1876, Andrew McQuade acquired an early homestead in Squaw Creek Valley. The property eventually became the community of Sweet. The town took its name from an early postmaster, Ezekiel Sweet.
"Following a gold rush in 1902 the town began to prosper. Merchants, ranchers and farmers were able to provide food and supplies to miners in the Thunder Mountain mining region, northeast of Cascade (Valley County). The town also supplied goods to loggers at the three to four sawmills in Dry Buck, northeast of Sweet (Boise County).
"Sweet soon had a bank, stores, hotels, liveries, a newspaper, church school, two blacksmith shops, two lodge halls and three saloons.
"Major fires in 1922 and 1925 destroyed most of the older buildings in the town. Remaining structures eligible for listing in the National Register of Historic Places are the Methodist Church and parsonage, the William Talley barn, Williams Saloon and the McQuade homestead."
(sign erected by the Gem County Historical Preservation Commission)
See Kennie's article on Sweet in the "Idaho Magazine," February 2011, for more history on Sweet.
More on Sweet on-site
postmaster history Ekekiel Sweet Sweet Methodist Church
Sweet Townsite plat Early Sweet Street Scenes Veterans buried in Sweet and Ola Cemeteries
Off-site links:
Sweet Cemetery
Balsaam Fox biographical sketch at gem.idgenweb.org
gem.idgenweb.org album index
Copyright © 2008 - All Rights Reserved.
Unless otherwise attributed, all photos and text are the property of Gem County Historical Society

Serving Gem County since 1973.
Hours
Wednesday - Saturday 1:00pm - 5:00pm & by appointment :: Extended hours during The Cherry Festival in June.