A Sampling of Gem County Photos
- much, much more at the museum
Around the County
Walking Tour of Downtown
photos of Main Street signs, Thanks Madonna Colburn for sharing!
alley signs, Thanks Madonna Colburn for sharing!
Burdge Grist Stones in City Park
Emmett, 1909
1910, Emmett Fruit display at State Fair (from waterarchives.org)
1911, Coonrod's Fair Exhibit (from waterarchives.org)
1913 Emmett Peach Orchard postcard, courtesy Art Beal - back
1915, Emmett Strawberry Field (from waterarchives.org)
1920, Boise Payette Lumber Mill, Emmett
1920, View from Freezeout (from waterarchives.org)
1923-BlackCanyon Dam (from waterarchives.org) - see also Black Canyon history
Black Canyon Canal construction (from waterarchives.org)
1930's, Emmett Valley (from waterarchives.org)
1940 Emmett Orchard (from waterarchives.org)
1940's, City Park "Looking West Down Main Street, 1922" (museum's "big art" sign)
Goodale Grade
Pearl 1902 (last buildings razed in the spring of 2004 - a poignant reminder of the need for active historical preservation)
Sweet - Ballantyne Wool Wagons
Sweet - Early Scenes
WWII Memorial, at tank, in front of courthouse
Memorial, WWI, Korea and Viet Nam at tank, in front of courthouse
Maps
1863 Basin Trail, by Dorothy Welberg
1864-1870 Martinsville, by Dorothy Welberg
1883-1885, Emmettsville by Dorothy Welberg detail-east detail-west
1897 Mail Routes from Idaho maps at Digital Commonwealth/Massachusetts Collections Online, which includes 1891, 1895, 1897 & 1903 mail routes
1900 Emmettsville plat
1910 Letha plat
1902 Pearl map reconstructed, by Sharon McConnel (to accompany photo below)
Sweet plat
Library of Congress Photos available at the museum includes, plus many more
(click for larger images)
Montour Photos from the Library of Congress

Pugh Elevator, Mill & Warehouse; The elevator,
mill and warehouse complex was erected in stages between 1916 and 1920, on land
that Harvey Pugh had used for a lumber yard.
The warehouse was built in 1916.
The concrete elevators were begun in mid-1919,
and excavations for the mill commenced
in the spring of 1920. By July of
that year, the mill was ready for a roof.
Machinery in the mill Pugh acquired from
a mill in Roseberry. Electricity was
installed in June, 1921, and flouring operations began in mid-July, 1921.

Farmers' & Stockgrowers' Bank,
Broadway & Main Streets, Montour

Methodist Episcopal Church of Montour,
The cornerstone of the church was
laid November 5, 1916 on land
provided by E.H. Dewey, the
railroad entrepreneur responsible for
platting the town of Montour in 1912

Montour School, combination grade
and high school, financed by a $6,700
bond issue, this two-story red brick
structure was built in 1913 to
replace Montour's first school building.
Ola Photos from Library of Congress Collection
| | | | | | |
| --- | --- | --- | --- | --- | --- |
| Entering Ola. Voting farmers in Squaw Creek Valley number 185, town population about 30. - Lange, Dorothea, photographer, Created/Published 1939 Oct | Former saloon and stagecoach tavern which is the temporary home of a member of the Ola self help sawmill co-op. photo by Dorothea Lange | | A sign on the road points to a sawmill and farms of members of the Ola self-help cooperative: L.H. Nelson, Chas. Carlock, Mary Carlock & sons, W.H. Canaday, Carl Canaday, Roy Carlock, Claude Canaday, Chas. Canaday, R. T. Nau & son | School attended by children of members of Ola self-help sawmill co-op (Gross School) | |
Digital Photo Collections around the state
Photos at gem.idgenweb.org
History of Idaho Collection, "The Mike Fritz Collection" of Idaho postcards, maps, documents
Boise State Digital Collection
Idaho State Historical Society Digital Collections
Idaho Cities Old Main Street Postcards
Northwest Historical Postcard Collection, University of Idaho
Mountain West Digital Library
Stonebraker Collection at University of Idaho, includes Chamberlain Basin, Roosevelt, Thunder Mountain
Events Scrapbook
2012 Ladies Social
2010 Cemetery Tour, Voices of the Past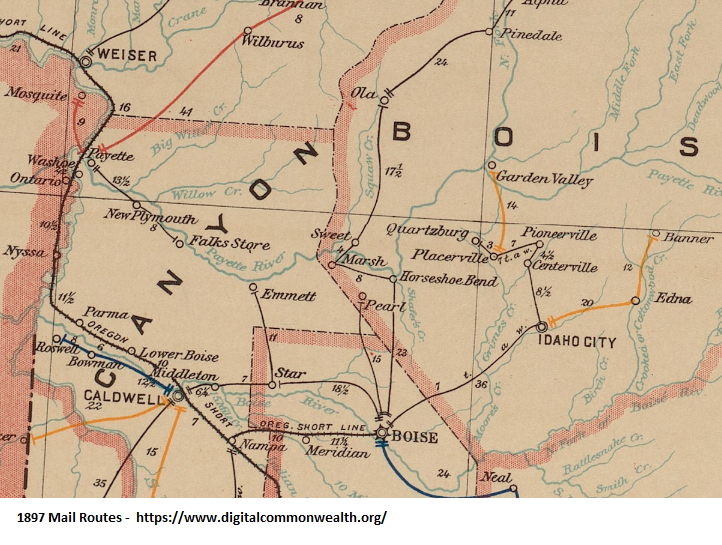 Copyright © 2008 - All Rights Reserved.
Unless otherwise attributed, all photos and text are the property of Gem County Historical Society

Serving Gem County since 1973.
Hours
Wednesday - Saturday 1:00pm - 5:00pm & by appointment :: Extended hours during The Cherry Festival in June.